Arbor & Trellis
469-442-5611
Pergolas Arbors Trellis - Dallas TX
Pergola Refresh
Pergola and Sunscreen refresh RCI Construction completed in Dallas TX. This basic looking project presented a few of challenges. Working in and around a functioning restaurant being the most important. We always discreetly work within our customers day to day activities. It is a primary goal to have minimal disruption of a customer's life, family and business activities. We achieve this goal in a number of ways. Polite respectful Care and caution when interacting with people around us. Protection of existing surfaces & equipment by using tarps and moving furniture, before working in an area. Removal of any debris, a full cleaning and replacing of moved items. Back where they were, daily.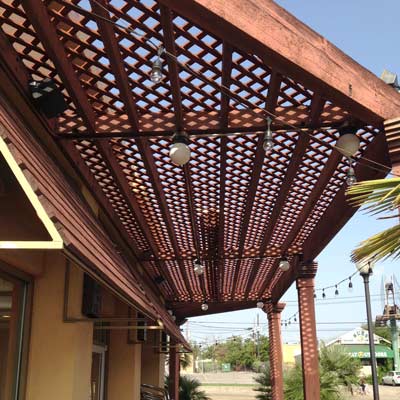 Pergola Completed - Free estimates
Matching Stain is a challenge under normal conditions. Varied weathering of at least 3 different custom colors and two types of stain, is near impossible. Especially with conservative cost concerns. Close study and a few visual matching tests resulted in a suitable color that looked like a fresh coat on the new materials.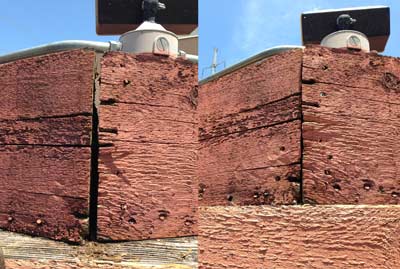 Cedar Beam repairs
Cedar Structures frequently present structural concerns here in the Dallas TX area. Everything tends to loosen up, over extended periods of time. This project was no different. Obvious concern was the main beam's joints opening up. Others had attempted to minimize the spreading of the beams. We repaired them to good as new status. By surgically cutting them free, pulling them back together (tight). Fasteners of proper length and holding strength make a sound - solid connection giving Structural Integrity.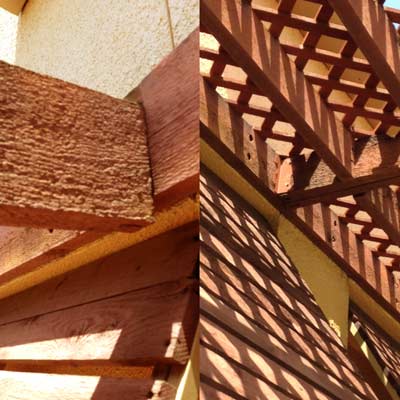 Structural Repair Strcutural Repairs that would be needed became apparent during removal of the Lattice Panels. Was very obvious how loose the members had become. The beams supporting the joists (rafters) dropped down. Joists were rather loose at the connections to those beams. Structure was not about to fall down, but certainly could not be left in that condition for safety reasons. Patrons being present and us having to work up on the structure. Beams where lifted, secured with proper fasteners, angle brackets on both sides and a coat of stain. Joists where secured with galvanized nails and straightened when the new Lattice was installed. With proper maintenance these will be long lasting repairs of the structure.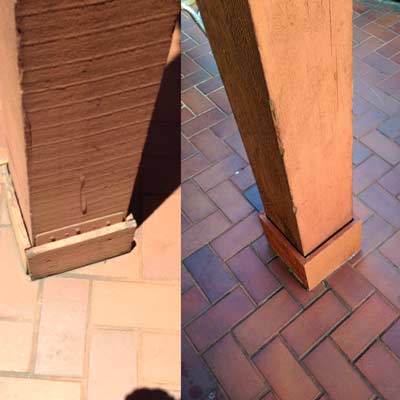 Cedar Trims
The existing Cedar Trim at the bottom of the columns were an eyesore. The exposed metal bracket and warping of the pieces needed to be "better". Just taller pieces would have helped. Mitering, fitting and using nails that are proven to hold well in Cedar will give a long lasting good impression. One thing to mention about Cedar; shrinkage and being too tight to the column will open the miters. Leaving a little room for shrinkage is our Standard method with Cedar. Extra bit of effort for maximum long term satisfaction.

We offer Design Build services complemting Pergola, Arbor and exterior structures. Contact RCI for more information. In addition, RCI Construction performs quality Additions Bathroom Remodeling.
We give Free, Reasonable Quotes You Can Count On.
Provide Fun, Helpful, Interesting Ideas
Dedicated to Timely Pace from Project Beginning to Completion.
The Gentle Treatment of Your Home / business, you deserve.
Helpful, Enthusiastic Answers to All of Your Questions & Concerns are our key to Open Communication.
Professional Quality Workmanship we guarantee Long Term Project Satisfaction.