EXTREME
469-442-5611
Extreme Remodeling and Improvement in North Texas
Challenge us. We excel at functioning out of the norms of construction and fabrication. Odd shapes, mixed materials, true "one of a kind" projects. We'll bring ALL of our varied experience to bear on your extreme project.


We start by leaving the old manual drafting tools and traditional concepts to the eternal swamp of time. In favor of a Modern Cad and CGI oriented set of design tools. To our client's advantage we fully visualize concepts and designs for client feedback and approval.
Major home and extreme improvements often require structural changes and upgrades. After decades of experience building, remodeling and adding on, we are not intimidated by the "impossibilities" others may see. Structural integrity of your living area is an absolute concern. We and our partners put great emphasis on creating the best structural solutions, possible. Our skilled tradesmen seamlessly make it the structural skeleton that holds up your project.


Projects requiring a couple hundred pounds of hangers, massive new structural beams, days of careful precise surgical cutting existing structural members, we've done it before and at the ready to do it for your project.
EXTREME:
1. going to great or exaggerated lengths
2: exceeding the ordinary, usual, or expected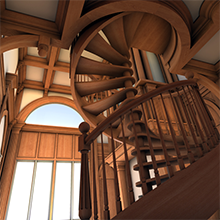 The fine quality & craftsmanship applied to unique shape & materials. Historic preservation, restoration and replication. Large scale to specialty one of pieces ... RCI makes "Extreme" a day to day occurrence.