Bathrooms
469-442-5611
Bathroom Remodeling
Everybody in the trades has heard, "this ain't no church" and "Can't see it from my house" These are a few comments regarding substandard material and workmanship.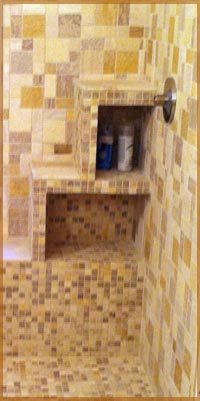 We all agree the bathroom is the most studied room in a home. And we know every imperfection and crack in our own. Don't tell anyone, but the insiders at RCI Construction- Build everything like it's their bathroom. Each of us would approve of any detail, after looking at it for a few minutes a day, every day.
Bathroom Remodeling requires precision and a high degree of construction knowledge. Even in larger bathrooms the constraints of space on plumbing, electric and heating/cooling are challenges. Challenges that require knowledge and experience of building codes, construction techniques, available bathroom fixtures, supplies, to solve. Best time to solve a problem is before even starting. That will take even more expertise, expertise that RCI Construction offers to our customers.
RCI Construction provides; Design-Build Bathroom remodeling, Build from your plans, or mesh with your design professional. A bathroom addition or bathroom remodel requires a well-developed design and an experienced contractor. A good contractor will minimize the construction time, dust & disturbances of your life.
Calling RCI Construction will be the first step to get you the benefits of our experience: Replacing a vanity top and sink, Shower or tub improvements, Custom tile work, Floating or Furniture washstand vanities, Total Bathroom renovations Bathroom Additions, ... and way beyond
In addition, RCI Construction expertly proforms Kitchen Remodeling. crafted to meet indivual taste adn budget