Portfolio
469-442-5611
Project Gallery - Examples - North Texas
Kitchen Remodeling Example

1920s era craftsman house kitchen renovation- Keeping the feeling of the home while modernizing the kitchens use and function

This project easily could have been an in and out make it look like a typical mid-level kitchen remodel. That did not match the home owner's vision of their new kitchen. CG Pre-Visualization gave us all an opportunity to explore and discuss what they really thought fit, themselves and the style of their home.
Handcrafted custom birch cabinets with creative use of architectural style details to make it flow and blend with the rest of the house. Era stain glass and custom tile backsplashes are simple elements that make this kitchen a expression of the home owners. Roman style perimeter bands in the floor tile, replication of existing millwork and matching finishes are few small details adding depth. Most important is the function of the kitchen. It definitely pushes the "standard norms" of function in design. However for how the home owners cook and use the kitchen it is a perfect fit for them. That was by design.
Great design without the craftsmanship, attention to detail and technical knowledge to construct it, in our minds, is out right wrong. Every effort is made on all projects to go beyond average and what the competition does. We apply that philosophy to Custom Cabinetry Bath Remodeling and major Home Improvements projects.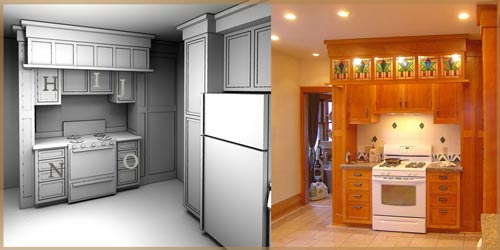 Bathroom remodeling Example

Far North Dallas late 80s early 90s bathroom transformation to a contemporary style zero threshold shower and bath

This project presented a number of challenges during the actual construction, as is typical of any project of this nature. All over come with good aesthetics, proper function and a goal of long term durability.
Schluter kerdi water proofing system was utilized combined with traditional shower pan construction. Mixed Travertine tile set on the walls. A modified Versailles pattern was laid over schluter ditra floor system (tile underlayment) for maximum durability of mixed large and small tile. Modified Store bought furniture pieces for the vanities that support custom cut travertine tops. The mirror glass was salvaged and a new frame matching the furniture was fabricated to tie all the pieces together. End result was what the home owner had seen in her minds eye - made real.
Of great benefit to the client was CG visualization. The project had a dynamic flow through the design process, allowing collaboration over both design and building with the home owner. Our customers have seen their projects in CG Pre-Visualization for Custom Cabinetry Kitchen Remodeling and major Home Improvements projects.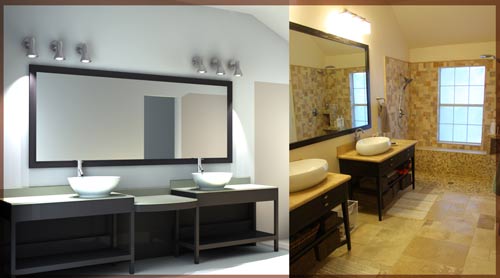 Millwork and Cabinetry Examples

Neatly integrated into RCI Constructions Skill Set and services is our cabinet shop- Cabinets & millwork alone or as part of remodeling project.

The Matador Meat wine display is a prime example of what we have to offer. How we can integrate Millwork with other building materials seamlessly. Project has rough sawn alder and careful consideration of maximizing bottle display and closely working with Architects/ Designers to create a masterfully executed focus of their wine display.
The Wet Bar - Entertainment Center was a design to installation project. Starting with design explorations through use of CG Pre-Visualization. Utilizing wood, glass, brushed metal, granite, natural and artificial lighting. The final design functions as a wet bar and entertainment center while maintaining many aesthetics of "Minimalist Design".
We offer many 'sub' services that fall under the Cabinetry title in people's minds. We are certified to fabricate Solid Surface materials. Allows RCI Construction to do some really neat pieces, small and large, for our remodeling clients projects: Bath Remodeling Kitchen Remodeling and major Home Improvements projects.